U S STENCIL            C S STENCIL

14 X 24 PLAIN BAGS $5.95 EACH   



14 X 24 STENCILED $6.50 EACH
U S STENCIL            C S STENCIL

ORDER YOUR BAGS HERE

BONUS BUY: WE INCLUDE ONE FREE BAG WITH EVERY 4 PURCHSED!

12X 19 PLAIN BAGS $4.95 EACH




12 X 19 STENCILED $5.25 EACH
ARMY DUCK CANVAS BAGS  -- FOR STORAGE AND TRANSPORT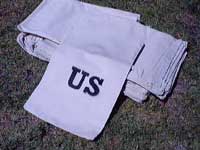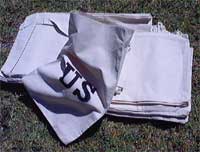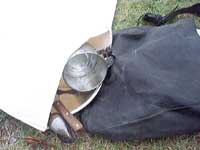 THESE SEWN 10 OZ. ARMY DUCK CANVAS BAGS ARE IDEAL FOR STOWING REENACTMENT GEAR -- FOOD SUPPLIES, LANTERS, MESS UTENSILS, EXTRA CLOTHING, ETC.

WHEN STUFFED WITH A SACK COAT OR OTHER GARMENT, MAKES A GREAT CAMPAIGN PILLOW!

BAGS MAY BE ORDERED STENCILED OR  PLAIN.  (STANDARD STENCILING IN US OR CS.)

BAGS MEASURE  A FULL 12" X 19", OR 14" X 24", YOUR CHOICE.  MADE OF 10 OZ NATURAL WHITE COTTON CANVAS, WTIH DOUBLE STITCHED INSIDE SEAMS, THESE BAGS ARE INCREDIBLY STRONG AND DURABLE.